A proper management is a base step of success. It is important in any process and blogging has no exception.
Prepare a plan on what to write and when to write, set a deadline, guide others to follow your list and check everything is working fine or not. We need a plugin to manage all these tasks.
We'll show you the best to-do list, task management plugins for WordPress. They will help you manage the blogging process better than before.
"Please note that this post contains affiliate links and any sales made through such links will reward me a small commission – at no extra cost for you. This helps me to cover the blog maintenance expenses. Thanks for your support."
1. 
Cleverness To-Do List
Cleverness To-Do List is a simple plugin to create and manage to-do list in WordPress. It allows you to share a public to-do list with all users, a private list with each user and a master list with an individual completion of items.
You can customize the list with options to show priority, deadline, progress, category and date completed. It will display your to-do list on a dashboard widget, sidebar widget and anywhere on the site using a shortcode.
2. 
Posts To-Do List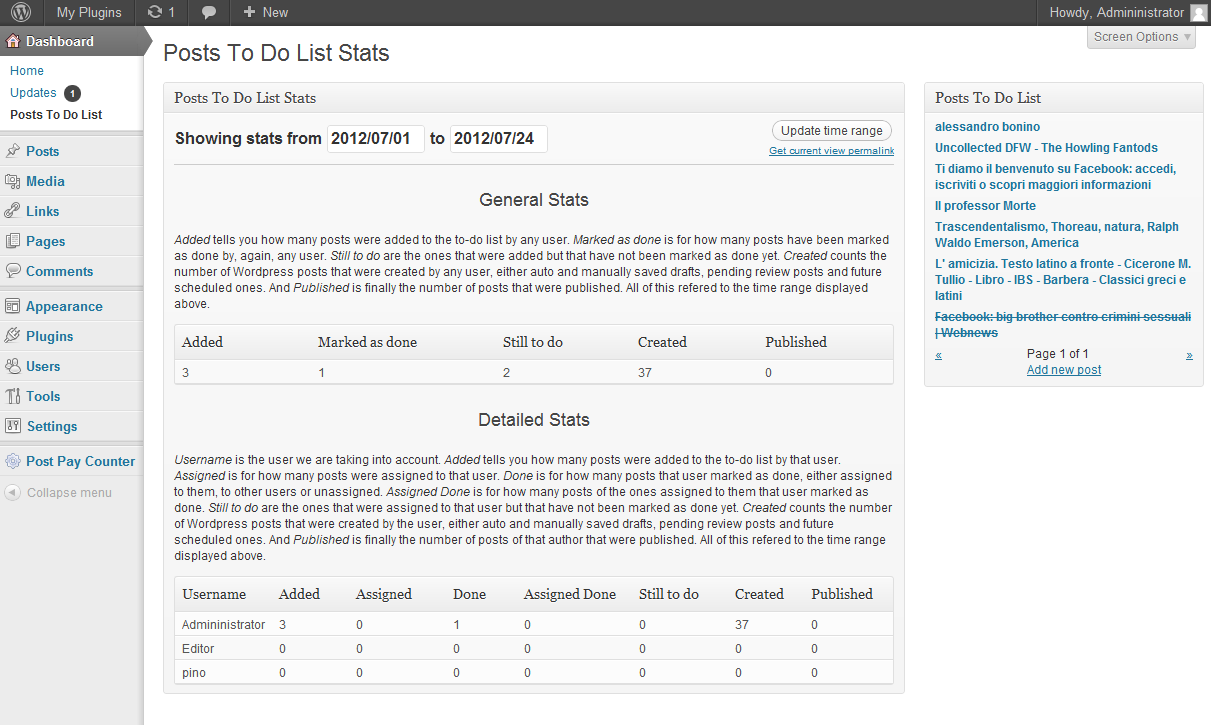 Posts To-Do List helps you prepare a plan on upcoming posts. Tell your co-authors about a great post that you found somewhere on the web, share the source URL, suggest keywords and add any suggestions using notes. You can assign the task to a specific user, hide it from other users, set priority and fix a deadline to complete the same.
Decide what user roles can add new posts to the to-do list and what user roles can delete already added items. Detailed stats let you know how many posts you have assigned, how many of them are completed and how much are pending.
3. 
WP Dashboard Notes
Create list notes and regular notes on the WordPress dashboard. Add as many notes as you like and divide them with different color backgrounds.
WP Dashboard Notes is easy to use plugin to create public as well as private notes. After installation, it will add an option to create notes on the top right corner of the screen. Click the link to add a dashboard note widget. Mouse over to set privacy level and background color of the list.
4. 
WordPress Task Management
Task Manager is a premium plugin to help groups or teams to create tasks and track activities of each user. It can be used to add shared and private tasks along with the deadline, the person to whom it is assigned etc.
Read How to Create & Manage a To-do List in WordPress